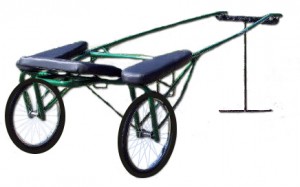 Tracker Training Cart
The Tracker is an all metal breaking and training cart. It is designed to be a durable and educational cart. The cart features a 30″ center seat and 2 side seats. The side seats allow for 1 or 2 riders. The side seats are designed for easy and safe dismount so an assistant trainer can control and educate the young horse.
This cart makes for a great everyday training cart for horses and new drivers. The well balanced metal shaft training cart offers freedom and comfort for the horse. Perfect for everyday driving, saving your show cart for the show ring!
Call Mike today for more information (937) 696-2446
Ergonomic adjustable stirrups
30″ padded seat
Elliptical springs
2 Side seats
Double Quick Hitch
Regular Hitch
Available in Miniature horse, Pony, Horse, and Draft size. Can be equipped with 20″, 24″, or 26″ chrome spoke wheels.

An all metal breaking cart. Standard equiptment includes side seats, double quick hitch or regular hitch. Very Durable.