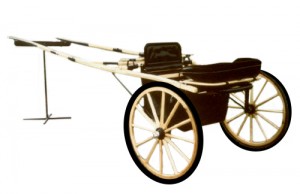 Show Master Show Carts
Superior Sulky's elegant show carts feature an open wheel design with wire wheels standard and optional wood wheels as pictured.  It has a removable basket cover to show the matching oak slats of the basket for a country look.  The show seat features a 4″ high back.
Superior Sulky's deluxe show carts also features an open arch frame and comes in custom paint in natural or add a splash of color with custom hand-painted pinstripe. Its durable construction provides for a long and trouble-free service
Call Mike today for more information (937) 696-2446
Features:
Hardwood slatted basked
Brass axle nuts
Chrome Wheels (Wood Wheels optional)
Black vinyl boot
Whip socket
Shaft leathers
Removable velvet wing style seat cushion.
Easily removable wooden shafts
Stable 48″ track center
Sizing:
Available in Miniature horse, Pony, Horse, and Draft size. Can be equipped with 20″, 24″, or 26″ chrome spoke wheels.